Tire Alignments Starting at $99.99
What is Tire Alignment?
Alignment is an adjustment of a vehicle's suspension, which is the system that connects a vehicle to its wheels. An alignment isn't an adjustment of the tires or wheels themselves, but involves adjusting the angles of the tires which affects how they make contact with the road.
How Do I Know if I Need a Tire Alignment?
You should have your alignment checked by one of our service technicians immediately if you've noticed any of the following problems with your car, as these are signs that your alignment needs to be corrected. 
• Uneven tread wear
• Vehicle pulling to the left or right
• Your steering wheel is off center when driving straight
• Steering wheel vibration
Why Tire Alignment Matters
Improper wheel or tire alignment can cause your tires to wear unevenly and prematurely. Here are some specific types of tread wear that lead to or indicate misalignment:
Feathering and Heel/Toe Wear
Tires are "feathered" when the tread is smooth on one side and sharp on another. This is usually a sign of poor toe alignment. Toe alignment refers to angle of the tires, pointing either inward or outward, which can cause this feathered wear on one side of the tire instead of even wear on both sides. 
Camber wear
Camber refers to the tire 'tilting' either right or left instead of being centered. This strain of tread wear means the inside or outside of the tread is significantly more worn than the center of the tread. As its name implies, positive or negative camber causes this type of wear.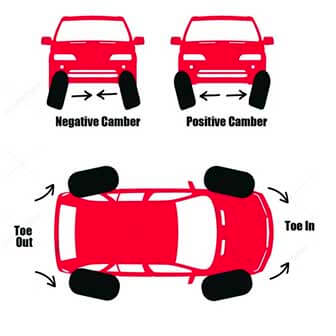 If you're experiencing any of these unusual wear patterns, you should have our technicians check your alignment. Having your alignment corrected will save you money from having to buy new tires more often, will keep your car safer in poor weather conditions, and will help your car to steer better without pulling to one side.
Service Information:
Appointment Info:  Walk-ins welcome, no appointment necessary
Time to Complete Service: About 45 Minutes
      Cost: $99.99 and Up
Make an Inquiry
* Indicates a required field
Hours
Monday

7:00AM - 7:00PM

Tuesday

7:00AM - 7:00PM

Wednesday

7:00AM - 7:00PM

Thursday

7:00AM - 7:00PM

Friday

7:00AM - 7:00PM

Saturday

7:00AM - 5:00PM

Sunday

Closed